What pressing issue does this proposed rule address? For the history of the ADA/wellness controversy, go here, here, and here.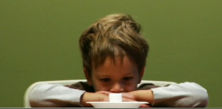 In the late 60s and early 70s at Bing Elementary School on Stanford's campus, Walter Mischel conducted the famous "Marshmallow Experiment" on delayed gratification.
As we have previously reported, the EEOC is pursuing test cases to establish legal protections for transgender workers under Title VII's prohibition against "sex" discrimination and harassment as part of its strategic mission even though no federal statute, including Title VII, explicitly prohibits employment discrimination based on gender identity or expression.
In the past twelve months we have reported on a Virginia case, Yelp!, Inc., v. Hadeed Carpet Cleaning, Inc., ("Hadeed") that was closely watched because the case dealt with whether a business owner could unmask an anonymous blogger that posted specific critical reviews on Yelp! of his carpet cleaning company.
Social media is used for so many different things nowadays—almost too many things. Well, the stack of uses for the medium has expanded now for notifying potential plaintiffs in class action lawsuits. But judges aren't over-enthused, at least initially—and one has set some ground rules in a recent lawsuit against Gawker Media. 
With the sanctity of any time-honored tradition, insurers resist discovery of their claim file with the ritualistic incantation that it is protected from discovery because it was prepared in anticipation of litigation, and therefore qualifies as work product.
Yesterday, Montana became the twentieth state to enact a law protecting employees from employer interference with personal social media accounts.